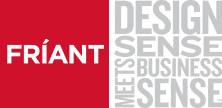 Friant sets out to rewrite the rules of office furniture manufacturing, to make beautiful offices accessible to everyone. You never have to trade in quality for price because we work hard to stay innovative and streamlined with our production.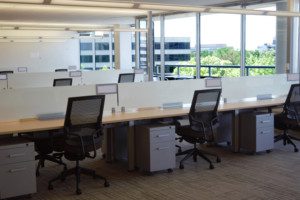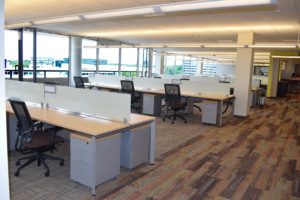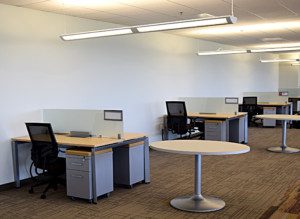 A Green Sensibility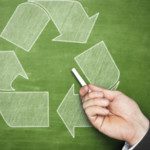 At the Friant manufacturing facility, they look for ways to be greener by being smarter. For example, they wrap our pallets to minimize packing space and fuel costs for deliveries. The LED-sensory lights in there warehouse and factories save energy by working only when they need them. They even found a way to use 40% more fabric from each roll, resulting in less landfill waste. All these things don't just make them greener. They make them smarter.
Fabrics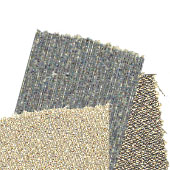 Our fabrics are made of a blend of recycled polyester fibers and are applied in a direction that maximizes yardage per roll applied to the panel, not the landfill.
Friant Office Furniture Products
Novo
Our newest 'mono-segmented' system
Novo combines the design flexibility of a segmented system with the ease of installation of monolithic. Multi-finish segments ship in pre-fabricated monolithic panels, for the best of both worlds. Novo will soon be your go-to favorite, featuring a slim base, updated storage, leg and worksurface options and a fresh new Cloud White finish.
System2
The system fundamental
System 2 is a sturdy panel system featuring full length steel and aluminum connectors, and can be installed easily by one person. Our honeycomb core construction meets or exceeds industry standard for strength and longevity. We stand behind System 2, and offer a lifetime warranty to the original owner.
Grow your team size or restructure a department quickly and easily, with panels that reconfigure as needed. An economical solution to all your office environment needs, System 2 is also available on our 5 & 10 Day Quickship program in more than 20 fabrics and finishes.
Interra
Elevated Design, Grounded Price Point
Meet Interra, our new frame and tile system designed for modern space planning needs and aesthetic sensibilities. Available in five tile materials – fabric, glass, perforated metal, whiteboard and rail tile — Interra offers infinite design variations to meet any customization needed. Power is available at both beltline and baseline and its sturdy 2.5″ thin profile frames are stackable allowing for ease of assembly and reconfiguration, making it the perfect systems product for today's fast-moving work environments.
A lighter footprint. Designed, manufactured and assembled in Northern California and Virginia, Interra is our system with the lightest environmental footprint: a typical station is made of 47% recycled content and is 75% recyclable at the end of its useful life. Its durability is guaranteed with a lifetime warranty.
Interra is designed to integrate seamlessly with our Dash desking system.
Details
Interra offers many features including 5 worksurface leg options, open base panels or tile to floor, window tiles and frameless glass.
Dash
Modern Desking built for Systems Integration
Sleek, durable and affordable. Featuring mix and match components and contemporary lines, Dash allows for unlimited configurations that enhance all modern office environments. And with incomparable value pricing, Dash will soon become your customers' go-to favorite desking line.
Mix it, match it, make it work. Any way you work, Dash works with you, allowing for quick plug and play accessibility with its discreet power trough and easy configurability. And it is the ultimate "co-worker", integrating seamlessly with our new Interra panel system.
Dash is designed to integrate seamlessly with our Interra system, also available only to our Advantage dealers.
Dash Details
Dash offers contemporary details for your modern system.
MY-HITE
Definition of Ergonomics
The applied science of equipment design, for the workplace, intended to maximize productivity by reducing operator fatigue and discomfort.
Many office studies have shown that changing position frequently during the day has a positive impact on workers' health, well-being and productivity.
FRIANT, MY-HITE, Adjustable tables were designed to promote the type of very adaptable workspace, that reduces discomfort, by allowing the users the ability to sit, stand or adjust their workstations with total flexibility, at a touch of a button.
FRIANT MY-HITE Adjustable tables integrates perfectly with any of the Friant Open Plan solutions, as well as private office furniture.
Furnish any office in style
Work in style with our sophisticated wood and laminate casegoods. Featuring a wide variety of components and worksurfaces in a multitude of finishes and edge details. Now you can get that customized look with the affordability you expect from Friant. You can also see our Gitana line of value-priced casegoods, our Mesa conference tables and our Willow reception line.
Seating
From fundamentals to executive seating, Friant offers a range of high quality, stylish options that feature ergonomic design and all day comfort. Adjustable arms, seat sliders, contoured upholstered seats and mesh backs are just a few of the comforts afforded by our chairs. From the full work day to special guest events, we've got your back (and seat). All this while delivering the superior value you expect from Friant.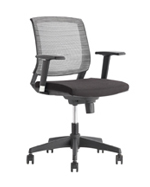 Amenity
Mesh Back Task Chair
Amenity offers a seating fundamental, with curved, white mesh back, cushioned seat and adjustable arms and seat height.
FEATURES
mesh back
cushioned seat
adjustable seat height
adjustable arm rests
vinyl base with sturdy casters
MEASUREMENTS
34.25 – 35″ H / 23.25″ W / 21.5″ D / weight 33 lbs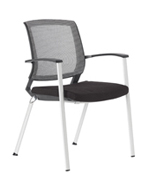 Axiom
Side Chair
Axiom brings contemporary style to your guest seating, with aluminum legs, cushion seat, vinyl arm rests, and the option of a white or black mesh back.
FEATURES
elegant, slim silhouette
cushioned seat
mesh back
stackable
*back available in white or black
*sold 2 per box
MEASUREMENTS
34.5″ H / 24.75″ W / 22″ D / weight 58 lbs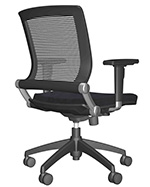 Celesse
Adjustable Back Task Chair
Celesse accelerates beyond basic seating, with a customized back support.
FEATURES
curved mesh back
cushioned seat
adjustable lumbar support
locking tilt mechanism
adjustable armrests: height, inward, outward
adjustable seat height
polished aluminum base with nylon casters
Greenguard certified
MEASUREMENTS
High-Back 37.25″ – 42" H / 26.5" W / 21" D / weight 42 lbs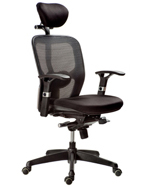 Droid
Mid Back Task Chair
Droid offers customized comfort with adjustable height, knee tilt, curved arms, plush contoured fabric cushioning and optional headrest.
FEATURES
2-1 sychronized tilt with 5 position lock down
knee tilt mechanism
pneumatic lift
spring tension adjustment
adjustable, curved arm rests
contoured fabric seat
nylon base and casters
*optional headrest
MEASUREMENTS
49.75″ H / 25″ W / 24.5″ D / weight 58 lbs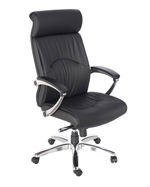 Madison
Executive Chair
Madison brings the synthesis of style and comfort to a new level, without compromising our affordable price point.
FEATURES
polished aluminum wishbone arms
non-scuff arm pads
Dura-soft eco-leather (polyurethane) upholstery
contoured foam seat and back
2-1 synchronized tilt with 5 position lock down
height adjustable seat
polished aluminum base
nylon casters
MEASUREMENTS
HIGH BACK 46 – 48.25″ H / 25.25″ W / 24.5″ D
MID BACK 39 – 41.25″ H / 25.25″ W / 25″ D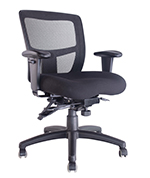 Zone
Classic and Mid Seating
Zone offers affordable seating without compromising comfort or functionality, with three height options.  Zone Seating gets a style refresh with a new back design, while keeping all the fundamental features for comfort and function:
AirMate elastomeric mesh back
Ergonomically-contoured upholstered seat
Pneumatic lift
Swivel action
Infinitely locking back and seat tilts
2-Way adjustable arms
Black nylon base
Quiet heavy duty polyurethane casters
Meets or exceeds ANSI/BIFMA standards
EZ ratchet back height adjustment
Synchronous seat/back tilt (applies to Zone Classic only)
Forward tilt (applies to Mid Zone only)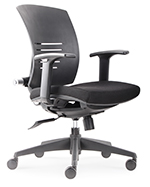 Velocity
Mid Back Task Chair
Velocity accelerates beyond basic seating, with customized back support and style option of a smooth or fabric back.
FEATURES
ratchet-back mechanism for adjustable lumbar support
locking tilt mechanism
adjustable arm rests: height, inward, outward
adjustable seat height
black nylon base and casters
cushioned seat
curved back: available smooth or fabric
Greenguard certified
MEASUREMENTS
35.9" H / 25.6" W / 24.4" D / weight 36 lbs