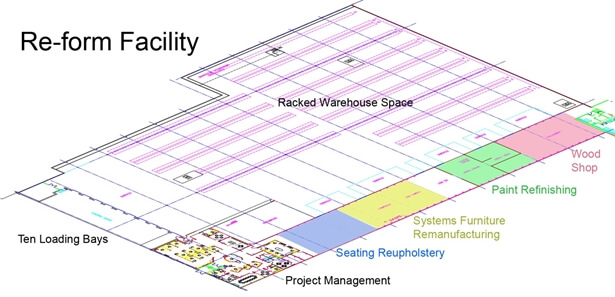 Commercial Office Furniture Reuse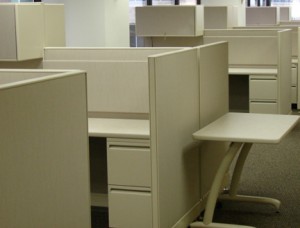 Over the last 30 years office furniture reuse has grown to billions of dollars annually. Most U.S. corporations have invested in used office furniture over the last year. Quality commercial office furniture has always been designed for a long life cycle. Most commercial office furniture manufacturers are committed to support product lines for a long period of time.. Instead of wearing out, used office furniture is often replaced because it has been depreciated completely and/or fabric colors and other elements become outdated. All too often an office face-lift or a new color scheme meant old furnishings were given a life sentence in storage or doomed to the dumpster.
Office Furniture Services
In 1986 Re-form recognized that many businesses were not able to manage and update newer and more complex furniture systems, and often discarded useful furniture assets. This presented an opportunity to both refurbish office furniture for large corporations, and remove and resell high quality used office furniture to smaller companies in the Mid-Atlantic region including Aberdeen, Baltimore, Columbia and Washington DC.
Thirty years later, Re-form still sells used office furniture and remanufactured office furniture to forward thinking companies with an eye for value and a regard for sustainability. Re-form specializes in Herman Miller, Haworth and Steelcase systems furniture in either AS IS (like new condition) or ready for remanufacture. Re-form manages large, complex office furniture inventories for enterprise sized corporations and government agencies in our 123,000 square foot warehouse and production facility. Whether you need to outfit a small office space or you are moving hundreds of employees to a new location, Re-form can help you.
Other services that Re-form provides are:
Office Furniture Warehouse Facility
Every work day nearly 50 of this area's most skilled upholsterers, painters, woodworkers, warehouse techs, installers, designers and project managers show up at our 125,000 square foot facility in Baltimore Maryland and work on bright, productive office environments for growing companies. We service most areas in the Mid-Atlantic region.