Re-form Office Furniture Remanufacturing

SMALL TO MID-SIZE COMPANIES
Your company is growing and you're ready for commercial furniture, but you don't have to accept the hefty price tag. Re-form has the furnishings you want at a fraction of the cost of buying new, whether it's refurbished office furniture, remanufactured, or as-is. You have enough on your plate, so we'll spare you the pitch and give you the same service as our big corporate clients.


ENTERPRISE FURNITURE SERVICES
You've invested in quality furnishings, now let Re-form show you how to leverage that investment. We bring existing assets up to current standards, manage complex inventories, liquidate unnecessary inventory and cover all the logistics, so you can continue your commitment to both sustainability and profitability.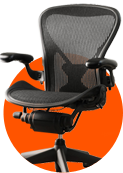 FRIANT SYSTEMS FURNITURE
New systems furniture now available from Re-form

FLOOR PLAN HELP
Our Interior designers develop efficient, effective layouts for you

REMANUFACTURING
It's amazing what new upholstery, fresh casters and a good cleaning can do.


MOVING
Keep your wits about you with Re-form on your side


TYPICALS
Standard systems furniture layouts to help you plan