Project Description
Office Furniture Reupholstering – Silver Spring MD
This project was for an existing customer of Re-form.  The project consisted of finding seating to fit a tight budget. Re-form provided office furniture reupholstering work for this customer.
Seating Reupholstery
The customer contacted Re-form and had some very specific needs for office furniture reupholstering. They were working within a tight budget and really needed our help to find a solution.  They were specifically looking for seating to use in a manager's waiting area.  The customer had a few ideas and sent the Re-form Project Manager a few pictures.  Our customer had a particular vision for what they wanted. Our first thought is to always look into what we currently have in our Reform inventory.  If we have a customer who wants to stay within a tight budget our Re-form inventory always keeps competitive.  Office furniture reupholstering is always a budget friendly option that we present to our customers.  In this case, we found the perfect loveseat, a pair of Brayton Rocco lounge chairs and a pair of National lounge chairs in our Re-form inventory.  All that was left was to choose a fabric so that the office furniture reupholstering work could begin.  That was the easy part.  The customer had a color scheme in mind. We utilized the vast resources we have for office furniture refurbishing and were able to present our customer with many budget friendly fabric options.  A few weeks later, our customer had refurbished lounge furniture that was as good as new.  No one would ever know it was a product of Office Furniture Reupholstering!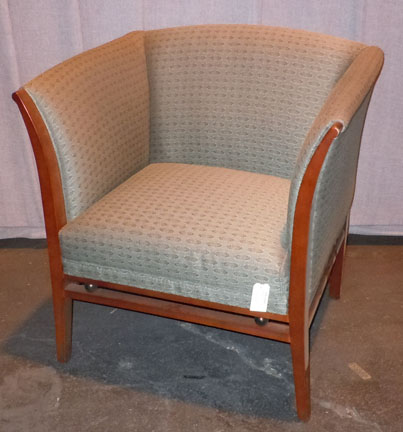 Before Reupholstering
After Reupholstering