Dear Re-form Person,
I recently overheard our brightest minds at the water cooler talking about the convergence of transportation and office furniture. What were they talking about?
Eavesdropping
They were talking about the Carbical! Desking and benching are yesterday's meatloaf Eavesdropper, the Carbical's where it's at.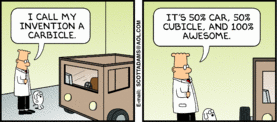 100% awesome is right.
For years, we American wage slaves have been walking wide circles around the solution to long commutes, and interminable days parked in a task chair. A case in point, who hasn't seen someone try this?
Or, ask anyone how a rig like this is working out for them…
Finally, the perfect example of Hegel's Dialectic — the carbical. Chained to the office? I don't think so. Break out; feel the wind blow over your flipper door, see the gentle rain fall like tears on your monitor. Live, you are collaborate no more.
The convergence; any questions?