Dear Re-form Person;
Our company anticipates needing (150) Haworth or Herman Miller 6×8 workstations and we are exploring used office furniture as an option. When I mentioned to our new furniture dealer that we would be getting a bid from Re-form, he looked ashen. I've worked with this guy before and trust him, but when I asked him why he looked like he just swallowed his hamster, he replied that I really shouldn't call Re-form," because the company was started by two guys who met in prison, and when they got out they got all their ex-convict friends together and started Re-form". He even said that they call it Re-form because it reminded them of prison.  Is this true?
–          Trepid, Germantown MD
Whoa Trepid!
What a great story! But though the Re-form Person almost wishes it were true, the sad fact is that Re-form was incorporated in 1986 by two brothers, both recent college graduates who couldn't find real jobs. An exhaustive background check reveals that neither was ever jailed, although each brother maintains to this day that the other was left on their parent's doorstep by the Police as an infant. But the idea of a used furniture shop run by criminals is not without basis in recent history. Al Capone carried a business card that noted his profession as a "Used Furniture Dealer", and he maintained a "shop" next door to mobster Johnny Torrio's Four Deuces Hotel at 2224 South Wabash in Chicago.
With regard to the two brother's alleged jailhouse buddies;  be assured that even though the state and federal prison systems have excellent training facilities for remanufactured office furniture, Re-form employees come from more conventional walks of life. Ironically though, some early Re-form experiments in staffing include the well-intended but regrettable plan to hire the Amish to remanufacture workstations. While the workmanship was impeccable, it was not unusual for Re-form to miss deadlines by months due to a lack of electric power and automation.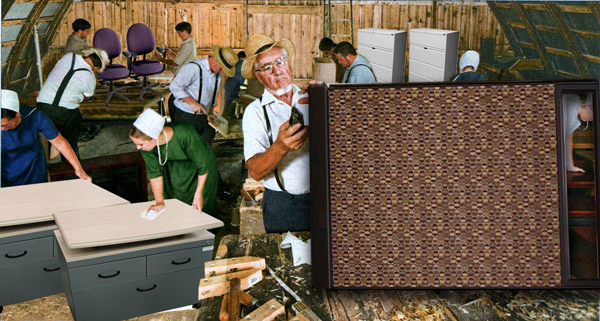 In a subsequent calamitous and nearly deadly overcorrection, the brothers invested in formidable Czechoslovakian špalku robots, originally designed to remove machinery from Soviet-era factories. Wisely Trepid, Re-form now employs (40) skilled tradespeople that you would be proud to take home to your mother. Especially if she got you from the police.