Used Office Furniture Dealer
Re-form is a full service used office furniture dealer and remanufacturer serving the MidAtlantic Region and beyond..
Odds are that we have what you need. And if not, it's out there somewhere… and we'll find it Our ability to find what our clients need sets us apart from the rest of the industry.
We stock and inventory Herman Miller Action Office Series 2 and Haworth Places and Unigroup. We stock seating from vendors like Knoll, Steelcase, Haworth and Herman Miller. We only work with the best manufacturers so that we can provide all the furnishings you'll need for your office.
Herman Miller introduced the Action Office Series in 1968 as the world's first open-plan office furniture system. Today, Action Office is still a really good idea—a practical choice that's working hard in offices around the world. In 1976 Haworth introduced it's own pre-wired panel system known as Haworth Values. Both Herman Miller and Haworth have built workstation products that have withstood the test of time. A 40 year old workstation from Herman Miller or Haworth looks as good today with new fabrics and finishes as it did when it was first introduced to the market. It actually might look better than new.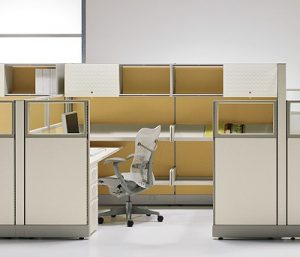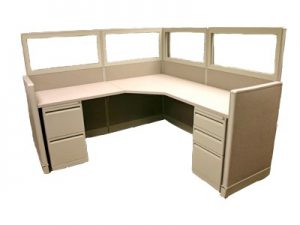 Whether you are looking for used or refurbished office furniture we can help. As a Used Office Furniture Dealer we inventory furniture that is ready for immediate use. In addition, we inventory furniture that is ready for refurbishment. We have furniture for any client and for any budget.
For 30 years we have been the premier Used Office Furniture Dealer serving businesses in Baltimore, Washington DC, Columbia, Aberdeen and the whole MidAtlantic region.
If you are moving or just freshening up what you already have, we can help. Whether you are moving hundreds or just a few employees, we have the experience and expertise to make your move seamless. We have everything you will need for your work space.
Reuse, remanufacture, recycle.
Learn more from one of our furniture consultants – click "Let's Talk" below.