Used Workstations
If you are just starting out, or are relocating and want to save money on used workstations and office furniture, Re-form has what you need. Re-form inventories hundreds of grade "A" AS IS used workstations in neutral and current finishes. And, if you want to match your décor and want the opportunity to pick your workstation finishes we can help there as well. We always have plenty of workstations ready for refurbishing. If reusing your workstations is your goal, Re-form is ideally suited for this task.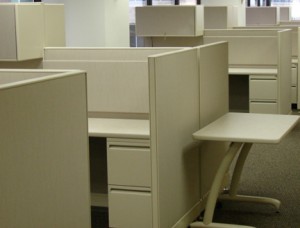 We are experts at designing a fully functional office space while incorporating your existing cubicles that have been refurbished to match your new company décor. Too many times customers assume that their existing cubicles have lost their usefulness because they appear dated.
At Re-form we see used workstations differently. We keep workstations in service and in our customer's offices. Since we stock Herman Miller Action Office 2, Haworth Places and Haworth Unigroup workstations we can supplement most customers existing inventories. In addition, we have access to workstation inventories that are available across the country. If we don't have the workstations you want there is a good chance we can find them.
Herman Miller – Action Office Series 2
The Action Office Series 2 was influential in introducing the concept of enclosed workspaces otherwise known as the cubicle or workstation.  Modern cubicle designs can trace their heritage back to the original Action Office product line introduced by Herman Miller in 1964.
For the last 50 years Action Office has proven to be the work horse of all workstations or cubicles.  Herman Millers Action Office Series 2 workstations and cubicles provide businesses with a return on their investment with long term use. Action Office Series 2 offers durability, flexibility, ease of use, and reuse as well as ease of installation.  Herman Miller Action Office Series 2 products are built to last with very few parts and pieces making it a favorite product of Office Furniture Remanufacturers like Re-form.
At Re-form we love the Herman Miller Action Office Series product so much we turned a few 1970's vintage Series 1 panels into our reception station.  It goes to show you no matter how old the product is, Re-form can transform it.
Learn more from one of our furniture consultants – click "Let's Talk" below.